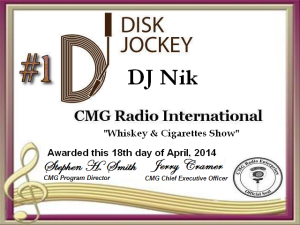 MTS Management Group would like to congratulate their client, DJ Nik Bernitz Pizzigoni, host of the "Whiskey and Cigarettes" country radio show, on his being named CMG Radio Network's #1 DJ. Nik placed first among a field of 30 DJs broadcasting on the CMG Radio Network. This is Nik's second award win in 2014: He was named International DJ of the Year at the Nashville Universe Awards, back in February.
"Thanks so much to those who voted for me, all the great artists whom I have the honor and pleasure of airing on my show, my awesome manager and the great people at CMG Radio!!! This is truly an honor," said Nik.
Nik has also announced the airing of his exclusive interview with up-and-coming singer/songwriter, Mike Archer. Mike is promoting his latest album, Shoulda Coulda Woulda. The interview with Mike Archer will air this coming Sunday, April 27. 2014 between 11am ET-3pm ET. The live show airs on Military Brotherhood Radio at http://www.militarybrotherhoodradio.com and on WDMU Radio at http://www.wdmuinternetradio.com. Whiskey And Cigarettes is also re-broadcast on more than 40 syndicating stations, worldwide, multiple times throughout the week. The interview will also appear on the April edition of the brand new "Whiskey and Conversations" talk show, broadcasting on iheartradio and other outlets.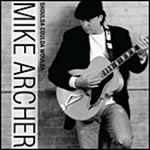 Mike Archer says, "I was born in Fort Knox, Kentucky, but home will always be in Indianapolis…My music is about telling the story of the common man, who works hard for everything he gets and appreciates the little successes in life. Growing up in the heartland listening to John Mellencamp, Jimmy Buffet, Jim Croce, and Bruce Springsteen my music is influenced by both country and rock." Mike has opened shows for BJ Thomas and Billy Joe Royal. Find out more about Mike Archer at www.mikearcher.com.
The CMG Radio Network is part of Cramer Multi Media Group. They own and operate 350 network online radio stations, playing the best of indie music of all genres, with an emphasis on their CMG Radio Club Members. They also host syndicated programming throughout the week. For more information, visit www.cmgradio.info.
Whiskey And Cigarettes Radio Show is a weekly show, originating in Milan, Italy, hosted by the "Romeo of the Rodeo" Nashville Universe Awards Winner, Nik Pizzigoni. The show features a unique blend of classic, current and indie country, trivia, contests, artist spotlights and interviews and Nik's European charm. Previous guests have included Steve Wariner, John Rich, Bill Anderson, David Ball, Bryan White, Doug Stone, Lee Greenwood, Collin Raye and many others. www.whiskeyandcigarettesshow.com.