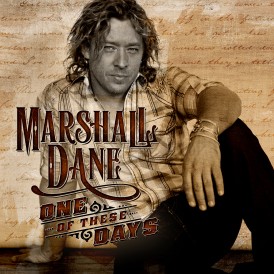 MTS Management Group would like to congratulate Canadian country rocker, Marshall Dane on his Number One Roots Music Report Pop Country Album, One Of These Days. The Dan Brodbeck-produced album tops the chart for weekending April 11, 2014. Other artists in the Top 5 include Hunter Hayes, Luke Bryan, The Band Perry and Eric Paslay. The album is nominated for Album of the Year at the 2014 Country Music Association of Ontario (CMAO) Awards.
Meanwhile, Dane's current single release, "Alcohol Abuse" comes in at #2 on the Pop Country Singles chart, behind Luke Bryan's "Play It Again." The song, written by Kim Williams and Billy Yates, comes in ahead of releases by Hayes, Paslay, Big and Rich and David Nail, among others.
"I can't tell you how proud and excited we are for Marshall," said Michael Stover of MTS. "Thank you to radio, for playing this album. The single is doing really well for us on a number of charts, and for the album to top the RMR chart, is just the icing on the cake. It is our first #1 album on that chart! We, at MTS, can't thank radio and fans alike, enough, for their support."
Marshall Dane is based in Port Credit, Ontario, Canada. He is a four-time CMAO Nominee, having been nominated for Best Male and Best Album in both 2013 and 2014. He will be performing at the May CMAO Awards ceremony. Dane will release his "Alcohol Abuse" Official Music Video on April 17th, at Dirty Dog Saloon in Hamilton, Ontario. He will also be performing at CMA Fest in Nashville, the Boot Hill Jamboree, and other events, this summer. For more information, visit http://www.marshalldane.com.
Roots Music Report compiles radio airplay data reported by radio station DJ's, Music Directors and Program Directors around the globe that play all forms of roots music, so that each week you can see which independent artists are being played the most on these stations. For more information, visit http://www.rootsmusicreport.com.
——–
For more information and interview requests with Marshall Dane, please email michael@mtsmanagementgroup.com.