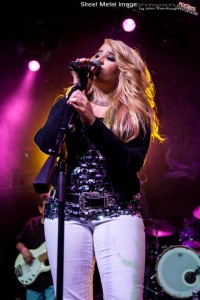 MTS Management Group is proud to announce Josey Milner will be singing the National Anthem and performing an acoustic set at the Hoedown For The Heroes. The event will take place on May 10th at Kanza Hall, 7300 W. 119th Street, Overland Park, KS. Doors open at 4pm. The All Ages event benefits the Wounded Warrior Project. Tickets are $10 and $5 with military ID. Children age 9 and under are free. Tickets are available at http://www.oneblocksouthkc.com. For more information, visit the facebook event page at https://www.facebook.com/events/419400874860398/.

In addition to Josey's performance, the show will feature performances by other Kansas City-area artists Noe Palma, Lance Pollard, County Road 5, Mudflap Mafia, Casi Joy and others. Items for auction include memorabilia from Colt Ford, Eli Young Band, the Kansas City Chiefs, the Kansas City Royals and many more.
"We're very humbled and honored to have Josey included in this event," said her manager, Michael Stover of MTS. "Josey has always been at the forefront of donating her time and talents to various causes, from her anti-bullying work, to raising funds for the USO Missouri. I'm proud to say that I work so closely with such a giving young lady. We are looking forward to a really enjoyable night of entertainment to benefit our brave men and women who serve."
Josey Milner is an 18-year-old country singer from Kansas City, Missouri. Her music has found a national audience, having topped several airplay charts and reaching the Top 75 on the Music Row Country Breakout chart with "Cowgirls." She is the reigning Miss Odessa Missouri and a National Honor Society senior in high school, as well as being an Angel Ambassador for national anti-bullying non-profit, Angels and Doves. For more information, visit http://www.joseymilnermusic.com.