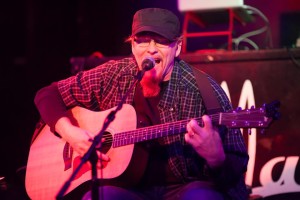 MTS Management Group is happy to announce Americana/alt-country singer-songwriter, Jiggley Jones will be appearing on WBRE TV's lifestyle-based show, "PA Live." Jiggley will be their guest on Monday, April 28th at 4pm ET, performing songs from his forthcoming Lamon Records Nashville release, A Mountain, a Struggle, a Tunnel, a Light. The show broadcasts live on WBRE TV in Wilkes-Barre, PA. Check local listings for station channel.
Based in Coatesville, PA, Jiggley Jones has performed throughout the region, including at the Millennium Music Conference in Harrisburg, the Hard Rock Cafe in Philadelphia, The Dewey Beach Music Conference, SS Cape May in New Jersey and the legendary Bitter End in New York City.
PA Live is a lifestyle show featuring local talent, business leaders, and people making a difference in NEPA and Central PA. It airs weekdays, from 4-5pm. Hosted by Dave Kuharchik & Jasmine Brooks, the focused news program features segments like cooking, fashion, health, beauty, fitness, technology, community news, entertainment, live music, etc. For more information, visit http://www.pahomepage.com/palive.
Jiggley Jones is the 2013 International Music and Entertainment Association's Songwriter of the Year, and he was nominated for two prestigious 2014 New Music Awards. His debut EP, No Spring Chicken spent more than 6 months on the national roots music charts. He signed with Lamon Records Nashville at the end of 2013. The first single and video from his new album, "Walk On Me," is scheduled for release on April 14, 2014. For more information, please visit http://www.jiggleyjones.com.