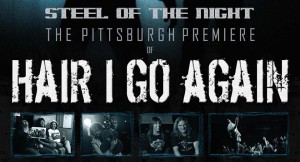 Hair I Go Again, a documentary about the determinations, triumphs and failures of a former hair band chasing their dreams, concludes the 1st leg of its U.S. Film Tour with an exclusive screening in Pittsburgh, PA Thursday May 5, 2016.
The Steel City event will be held at Carmike Cinemas 10 at 7:30 PM. Producer Kyle Kruger will be on hand for the documentary screening which includes a filmmaker Q&A and Meet & Greet. World renowned guitarist, recording artist and Pittsburgh resident Xander Demos is also featured in the film, as well as on the movie soundtrack.
Tickets are available online at hairigoagain.eventbrite.com with a limited number of tickets available at the door.
The year was 1985. Thousands of miles away from the sonic debauchery of the Sunset Strip, two teenage friends shared aspirations of glam rock grandeur. Freshly permed and taking a page straight out of Hit Parader, a hungry, determined band was born. Fame and fortune, however, remained out of reach and the group unceremoniously imploded…probably over some chick.
Fast forward thirty years.
Facing a mid-life crossroads, Kyle Kruger and Steve McClure set out on an improbable journey in order to fulfill their dreams of achieving rock & roll stardom. With credit cards maxed out and the 401K cashed in, the pair risk everything in hopes of reclaiming the magic they had as a band over a quarter century ago.
It's a story about a lifelong friendship, insurmountable odds and dealing with the always present thought of "what if"? It's a tale of rediscovery, determination, triumphs and failures.
Because first and last chances happen only once.
Featuring candid interviews with some of the most influential musicians and industry professionals in the business, including Eddie Trunk (That Metal Show), Jeff Keith and Frank Hannon (Tesla), Ron Keel (KEEL), Steve Blaze (Lillian Axe), Frank Bello and Joey Belladonna (Anthrax), Les Warner (The Cult), as well as members of Kix, Stryper, Queensrÿche, Quiet Riot, Warrant, Motörhead, LA Guns and more.
Web www.hairigoagain.com 
EPK https://www.dropbox.com/s/kjs1ptf0778v8c8/Hair%20I%20Go%20Again%20EPK%20-%20Public.pdf?dl=0 
Facebook www.facebook.com/HAIRIGOAGAIN 
Twitter https://twitter.com/HairIGoAgainDoc
YouTube www.youtube.com/user/HAIRIGOAGAINDOC 
Merchandise https://hair-i-go-again.myshopify.com 
For Interviews/Requests:
Kyle Kruger, Producer
Ghost-2-Eleven Entertainment
kyle@hairigoagain.com