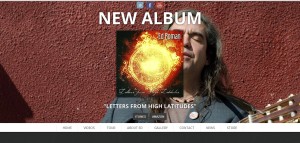 MTS Management Group and Ed Roman are happy to announce the launch of the singer/songwriter/multi-instrumentalist's new website design. The design was created by Collin Stover, formerly of PeachCrate Design, who also developed the MTS Management Group website. The new Ed Roman site coincides with the beginning of his Letters From High Latitudes radio campaign. His album is going for adds at college and AAA radio in the next few weeks.
"Ed's new site looks amazing!" said Michael Stover of MTS, content manager for the website. "We wanted to align Ed with other acts that are going after the same target audience. This new site is clean, crisp and in line with what Ed's contemporaries are putting out there. The share-able links for individual press articles is my favorite part of the site. Collin Stover did an incredible job of executing our plan and achieving our goal in an extremely timely manner. Go check out http://www.edroman.net."
Ed Roman is based in Shelburne, Ontario. In 2011, he released the critically acclaimed, Oracles And Ice Cream, which featured 22 tracks highlighting the spectrum of Ed's broad musical tastes and influences. While performing 90% of the music on Letters From High Latitudes, Ed also receives help from notable musicians, Dave Patel (Sass Jordan) on drums and Mike Freedman (Tia Brazda) on electric guitars.
MTS Management Group is a full-service artist management, publicity and promotions firm, and an indie label. Their artists include award-winning and chart-topping artists in the country, rock, metal and americana genres, and an internationally syndicated radio show. For more information, visit http://www.mtsmanagementgroup.com.