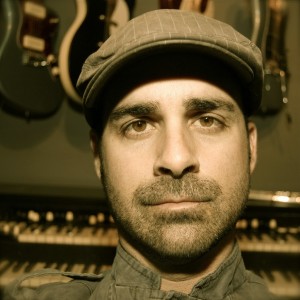 Justin DiFebbo – Skin and Bones
URL: http://www.justindifebbo.com/
 It's good to know there's still a place in the hearts and minds of music fans for the sort of songs Justin DiFebbo writes. We hear it our entire lives that pop music is disposable, it's a meaningless trash art, and it's incapable of making substantive musical statements. All of that is true if you want it to be. You can pander. You can write to the lowest common denominator and rehash formulas without rhyme or reason chasing after the bucks. Pop music, rock, any genre, has always been capable of much more. It's about your talent and what you will settle for. Justin DiFebbo's debut Turn Out the Light, Turn on the Stereo established him as a major new performing and songwriting talent capable of breaking out nationally, if not globally. His second album Skin and Bones is a ten song set that cements him as an artist who will not settle. This collection is a winner.
It starts off with "Adrift", a hazy psychedelic almost-anthem that sticks to its groove with only occasional rises in musical intensity. Based on that description alone, some might doubt its value. It works. The melodies are strong enough to carry the listener and its aimlessness is turned to virtue by the compressed duration, theme, and stirring DiFebbo vocal. "Air You Breathe" has a stronger musical foundation and shape, but many of the same sonic principles working in the first track stay consistent here. "Do What You Like" goes in a much poppier direction that the album's opening, but it takes a singularly quirky approach to melody and spreads out interesting post-production effects throughout the song. The album's title song is much more conventional and audibly influenced. While the band might be channeling a modern day version of Pink Floyd, DiFebbo's lyrics are far better than anything Waters or Barrett offered up thanks to his surprising penchant for clear storytelling and surprising poetic flourishes.
The album's second half is a little more chaotic than its first. DiFebbo tosses his hat in the rock and roll ring on "To My Love", but rather than serve up the expected riff rocker, DiFebbo gives listeners something closer to an edgy New Wave rock track with heavier distortion and more physicality. The instruments are recorded in such a way that they seem to reach out from the speakers and grab you. "Blue Melody" has some of the same dissonant edge, but like elsewhere on the album, it never takes full control and instead gives the song a darker shade. DiFebbo turns in another surprisingly complex lyric and handles its delivery with smooth, confident skill. "Too Much" is infused with a tremendous swirl of emotions and rates high as one of the album's cleverest bits of songwriting. The bittersweet turns are matched by slightly mournful, understated accompaniment.
Justin DiFebbo is a man out of time. There's still a place in the world for these sorts of songs, but they are so foreign to what passes for mainstream smashes today that you can't help but humorously wonder where his time machine is parked. All jokes aside, this is an album of rare musical courage and creativity.
 9 out of 10 stars.
Aaron Ellis