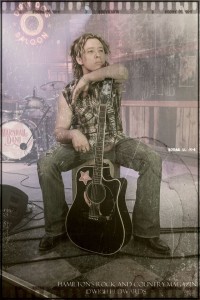 Marshall Dane was recently interviewed by Country Music Notes, regarding his influences, his single, "Alcohol Abuse" and what drives him, in his career:
CMN: What is the reason you sing? What keeps driving you forward?
Marshall Dane: I think my ultimate answer would be because I love music so much and I found a way to make it my full time job. I constantly want to ensure that it is my full time job. It provides an income.
I remember when I first started for a little bit of money at a local bar. I was so happy that I didn't have to spend more time working at a cafe. It's what I love to do. Basically, I enjoy it so much that, at any level, I get to still pursue this. So that, to me, beats some of the other opportunities I was thinking about before doing music full time.
It's so beautiful when I get to close my eyes and fall inside a song. When you're on stage and all the pistons are firing inside yourself and the feeling is so good. The audience's reaction is so good. . .I would probably wither away if I didn't have that reaction. To share that awesome feeling is like making a great dinner and then sharing it online, or maybe that is more of a Canadian thing to do. But, at the end of the day, it's because you get to share something so tasty, so good. It's about having that great vibe. It doesn't matter if it is an audience of 20,000 people or just two people in a bar. It's why I keep doing it. Because I can.
Read more from Marshall Dane on the Country Music Notes Website!