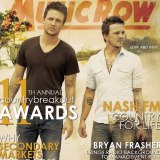 The Music Row Country Breakout Chart for weekending March 22, 2013 is out, and the latest singles from Josey Milner and Amy Rose are alive and well, and kickin' butt! Here's the story:
In its 9th week of reporting, Josey Milner's anti-bullying anthem, "Not Pretty Enough" climbed 8 spots to #116, picking up 13 new spins, and adding a new reporting station, KKOW in Pittsburg, KS. Josey recently visited KKOW, and she is currently working with them on a series of PSAs about bullying. Josey is a spokesperson for Angels and Doves, a national non-profit. Josey's track is outpacing other artists with tracks in their 9th week of reporting, including Gretchen Wilson ("Still Rollin'," #140) and JB and the Moonshine Band ("Kiss Me That Way," #143.) Josey is also 4 places ahead of Big & Rich, who are at #120 with "Cheat On You." Please keep requesting "Not Pretty Enough" on your favorite country stations! It DOES make a difference…
Meanwhile, Amy Rose continues to add spins to her weekly total for her debut US single, "I Just Want You To Know." In its 16th week on the chart, Amy's track picked up 3 new spins and held steady at #98. With a tight chart at the moment, especially in the Top 100, this is a great feat. Amy comes in right behind Katie Armiger ("Playin' With Fire, #97) and a few spots ahead of Erica Nicole ("Better Beer," #101.) Amy's single is currently outpacing the latest from Steve Holy, "Hauled Off And Kissed Me" (#121,) also in its 16th week of reporting. We need a real push from all of you to get this song to the Top 75! Please request "I Just Want You To Know" from Amy Rose on country stations everywhere.