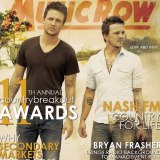 The Music Row CountryBreakout Chart for weekending March 29, 2013 is out, and both Josey Milner and Amy Rose gained spins, continuing their climbs up the chart. Here's the scoop:
Amy Rose's US debut, "I Just Want You To Know" picked up 9 new spins in it's 17th week of reporting, giving it enough spins to remain at #98 for another week. Amy comes in just ahead of Erica Nicole at #99, with "Better Beer" (Nine North/Turpike) and just behind JB and the Moonshine Band at #97, with "The Only Drug" (Average Joe's.) We're hoping for a trip to the Top 75 with this one. Please keep your requests going to country radio for Amy Rose "I Just Want You To Know."
Josey Milner continues to add stations and pick up spins with her first chart single, "Not Pretty Enough." This week, Josey climbs 4 spots to #112, adding WOKA in Georgia, and picking up 14 new spins. Josey comes in a few back from fellow Missouri native, Michael Lynne's "Missing You" at #106 and just ahead of Chris Cagle's new single, "Dance Baby Dance" at #117. This news comes as Josey is out on the road promoting the single. After wrapping up radio stops in eastern Missouri, at KFAV and KWWR, Josey will be heading to Oklahoma next week, to visit KREK and KGFY. Could a trip to the Top 100 be far behind? Request Josey Milner's "Not Pretty Enough" on country radio stations everywhere!