Spacebear – Straight for the Sun
FACEBOOK: https://www.facebook.com/spacebearband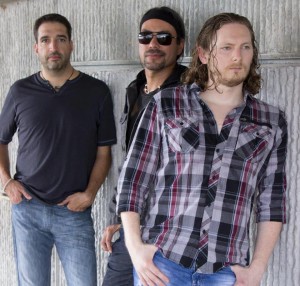 Some approaches never date. If you ever question the music you love has any lasting shot at posterity, judge it on melodic content alone. Popular music, by definition, is intended to be disposable and fifty years and change of formulas attest to its typically narrow strictures. There isn't doubt, however, that any songwriter's chance at lasting popularity invariably falls on their melodic skills. Spacebear knows this well. The three piece from Texas bristles with tremendous gusto through the tracks on their debut EP Straight for the Sun, but there isn't one song lacking substantive melodic content. They are happy to spike their unquestionable musicality with moments of raw dissonance and snarling rock attitude. The production connects with real impact and maintains a balanced mix between the instruments to give Spacebear the best possible chance to make a great first impression.
The opening track "Without You" clearly shows they have that well in mind. It has a breezy pace surging on an instantly memorable melody and a fat guitar tone giving it considerable immediacy. Kyle Lanter, vocalist and guitarist, handles his dual roles with confidence beyond his years, especially considering this song is clearly designed for live performance. "Echoes of Sunday" is, perhaps, a trickier live proposition. The swirling piano driven melody definitely drops listeners in a much different land than the opener, but there are consistent qualities. There is an abiding thoughtfulness in even the band's rockiest moments that gives Spacebear distinctive facets not common to their peers. "Blue" demonstrates much of the same energy heard in the EP's opener, but the dominant quality here is the aforementioned thoughtfulness that even spices moments of formulaic rock posturing with an unique flavor. Unique flavors give much of the EP an unusual taste and "Electric Sheep" is no exception. The white-knuckled guitar melody hits listeners between the eyes again and again while Lanter delivers a strong vocal closely following the riff. It won't overwhelm many listeners, however, thanks to how often the band changes things up for brief interludes.
"Waiting on You" opens with a slightly distorted, melancholy guitar melody weaving around Lanter's smoky vocals. Spacebear shows impressive patience letting this song simmer until its eventual full flowering and, when it does, the wait is well worth it. There's blinding energy in their playing that clearly shows their youth, but Spacebear's wont for slightly more considered fare doesn't desert them even here. There's an intelligent theatricality working behind creative moments like this and their obvious fondness for rock music's possibilities in this area are never strained or overstated. "Hope's Gone" is an airy rocker with space to spare between the notes that gives it surprising swagger and makes for a solid penultimate track on the album. The final song, "Constellation", is another inventive turn from the band. There's a more pronounced singer/songwriter sensibility underpinning this tune than heard on previous tracks
It's an important moment on a debut full of them. The final entry on Straight for the Sun encapsulates all of the band's strengths in a cinematic package and slaps a new, vivid coat of paint on everything. Their enthusiasm for the material is unquestionably, but we can only hope the world is listening just a little harder and hears the sophistication lurking under it. This is the first piece in a puzzle that, in its own modest/immodest ways, is taking aim at making musical history books while blazing a path through today.
SPOTIFY: https://play.spotify.com/album/6iaZ0P7AOyPQahVxKgMU85?play=true&utm_source=open.spotify.com&utm_medium=open
9 out of 10 stars.
Scott Wigley