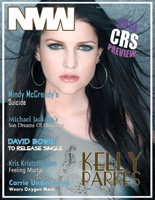 This week saw the beginning of one of country radio's biggest events, the CRS convention in Nashville. Because of this event, there wasn't much action on either the Music Row or New Music Weekly chart. But, that didn't stop Amy Rose and Josey Milner from posting gains on the NMW chart. They also held steady on the Music Row Breakout chart. Here's the scoop:

Amy Rose's latest, "I Just Want You To Know" continued to edge toward the Top 10, climbing 3 spots to #12. Amy comes in just 2 spots back from Tim McGraw (#10, "One Of Those Nights.") With a gain of 49 spins over last week, Amy's single claimed more than 1600 spins this week. Her track also climbed 3 spots to #8 on the NMW Indie Chart, making it her first Top 10 on that chart. Please keep your requests going to radio, and let's get Amy to the Top 10 on the Main Chart.
Josey Milner's single, "Not Pretty Enough" regained its "Spincrease Leader" status, by picking up 84 new spins this week. These new spins come, partially, as a result of picking up two new AM stations in North Dakota, KBJM and KNDC. Josey's spincount of 949 was enough to help her move 1 spot to #51 this week, just ahead of Eric Church (#52, "Like Jesus Does.") Could next week be a trip to the Top 50? Please keep requesting Josey Milner on your favorite country radio stations.