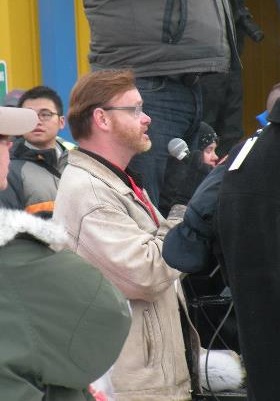 This past Saturday, country music artist, Doug Briney, known as the Alaskan Cowboy, sang the National Anthem and Alaska Flag Song for the opening ceremonies of the 2013 Iditarod Trail Race. Doug sang for the 1,000-plus race volunteers, 66 racing teams and dignitaries, including Alaska Senators Lisa Murkowski and Mark Begich, Governor Sean Parnell and Anchorage Mayor Dan Sullivan, and a worldwide audience, via television coverage.

"I arrived at 7:50AM and stayed warm and loosened up my voice in an RV," said Doug. At about 9:15, I was told they were getting ready to go. So I walked down 4th Ave to the starting line at 9:30, the Color Guard marched out under the starting line banner, and then, I was announced by Dave Stroh. I sang the National Anthem first, then the Alaska State Flag Song. After I finished, I made my way across the street where we watched about 34 teams of the 66 head out. Some favorite mushers of mine, Allie Zirkle, Martin Buser, Lance Mackie and DeeDee Jonrowe."
The Iditarod Trail Sled Dog Race is an annual long-distance sled dog race run from Anchorage to Nome. Mushers and a team of 12–16 dogs, of which at least 6 must be on the towline at the finish line, cover the distance in 9–15 days. The Iditarod began in 1973 as an event to test the best sled dog mushers and teams but evolved into today's highly competitive race. For more information, visit http://www.iditarod.com.
Doug Briney is a country music artist based in Anchorage, Alaska. His album, "It's All Country" was re-released on CBM Records in January, 2013. The album is currently in the Top 20 of the Roots Music Report True Country chart. He recently signed a new record deal with Tate Music Group, who will record and release his next album, this spring. For more information, visit http://www.dougbriney.com.