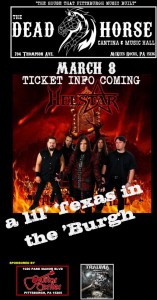 JUST ANNOUNCED! Xander Demos and his band (XDB) will be opening for metal masters, Helstar in Pittsburgh, on March 8th, 2013. The show will be at Dead Horse Cantina, 704 Thompson Avenue, McKees Rocks, PA 15136. Tickets are $15, but they will be available from Xander Demos' store for a DISCOUNTED PRICE at www.xanderdemos.bigcartel.com. So, be sure to get your tickets from Xander and his band.
Xander will also be opening for Lizzy Borden on April 26th and Love/Hate on May 1st, and Paul Di'anno in June, all at the Dead Horse Cantina. Discounted tickets for Lizzy and Love/Hate are available NOW at Xander's Store.
Helstar is a metal band from Houston, TX, formed in 1982. The band is fronted by James Rivera, who also fronts Sabbath Judas Sabbath, of which Xander Demos and Jeff Anzelone (drums) are east coast members. For more information, visit www.helstar.com.