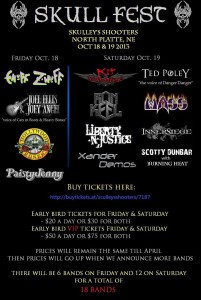 MTS Management Group is proud to announce that Xander Demos has been added to the lineup of Skull Fest. The two day rock and metal music festival will be held at Sculley's Shooters in Platte, Nebraska on October 18-19, 2013. Six bands will perform on Friday, and twelve will perform on Saturday, for a total of eighteen performances. Sculley's Shooters is located at 2221 E 4th Street, North Platte, Nebraska 69101. Phone is (308) 650-0000. Tickets can be purchased at http://www.tickettailor.com/checkout/view-event/id/7187/c….
The current lineup for Skull Fest includes Friday performances from Enuff Z'nuff, Joel Ellis and Joey Angel, Hollywood Roses and Paisty Jenny; and Saturday performances from Kip Winger, Ted Poley, Ron Keel, MASS, Liberty N' Justice, InnerSiege, Xander Demos, and Scotty Dunbar with Burning Heat. More acts to be announced. For more information, visit the Skull Fest event page on Facebook at http://www.facebook.com/events/520949311290225.
"We're stoked to have Xander on the bill for Skull Fest," said Xander's manager, Michael Stover of MTS Management Group. "This lineup is full of incredible artists, and to have Xander on board is a real thrill. 2013 is starting off with a bang. It's going to be the year of the X!"
Xander Demos is a metal guitar player, based in Pittsburgh, PA. His album, "Guitarcadia" was mixed by Cj Snare of the band, Firehouse. Xander is also a member of James Rivera's Sabbath Judas Sabbath. He will be on tour this spring. For more information, visit http://www.xanderdemos.com.