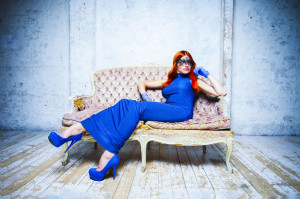 Mrs. X  is a pop singer, songwriter and music producer with a multicultural background. Her ancestors come from Holland, Azerbaijan and the Dominican Republic. She currently lives in Germany. Mrs. X is a very private person, who does not divulge any information about her personal life. Her date of birth and her real name are not officially known. She never sets foot on a stage without her trademark mask. The artist took her inspiration from "Circus Princess", a light opera by Emmerich Kalmans, which tells the story of the talented acrobat Mr. X who never reveals his real name. Whenever he appears in public, he wears a mask in order to protect his private life. Before launching herself into music, Mrs. X received a well-founded musical education. At the same time she also studied law and another course. It was during her University years that she discovered her love for Jazz, which prompted her career as a Jazz singer.
In 2012 she decided to follow her dream and pursue a new direction, known as "Pop à la carte".Currently, Mrs. X is working with Sefi Carmel, the award winning London based music producer, on her new album. True to her principles of an international music project, the performer has invited artists from the Brazil, Canada, Germany, Great Britain, Jamaica, Italy, Russia and United States to work on the album, which will be released in 2016.
Mrs. X took time out from her busy schedule to give us a glimpse "behind the mask:"
MTS: When you first began recording music, you found inspiration from Mr. X in "The Circus Princess. Why do you feel that you connected so deeply with his character? How has keeping your anonymity helped or hindered your career?
MRS. X: Thank you so much for your question about Mr. X! I love "The Circus Princess" by Emmerich Kalman.  Hope that you don´t think that it´s strange for a pop musician… Kalman is an incredible composer who has a talent to combine finest melodies with strongest emotions: he tells about grief, happiness, doubt, love…  The operetta´s hero, "a man with a past", transformes himself into the mysterious Mr. X, escaping his home and choosing the career of a circus artist. Hiding his real name Mr. X becomes an incredible acrobatic artist… The crowds marvel at his exploits in the top of the circus watching every day how he tempts his fate.
But it´s not only his anonymity what delights and suprises me. It´s his pure heart, his creativity and the willpower to overcome the obstacles and, of course, his ability to fall in love.
As for me, keeping the anonymity and wearing the mask is a key to my artistic liberation.  But everything has advantages and disadvantages. Compared to other musicians I could not be supported by an initial fan group right at the beginning of my career. Nobody could support  me at the very beginning because no one knows who I am.
MTS: Your familial roots are from Netherlands, the Dominican Republic, and Azerbaijan.  How has your diverse ancestral background influenced your music?
MRS X: "Everywhere a stranger, everywhere at home." My roots are a great inspiration for me! Thanks to my family's background across multiple continents I could create my own style, "Pop á la carte" as pop mixed with a light touch of rock with a slight Caribbean influence.
You´ll hear it in the next releases!
I have composed many songs in Santo Domingo and in Baku. It's always easier there … my creativity suddenly gets a big power!  With musicians from Baku I've recorded one version of my song "Strangers Blues", it  sounds different and surprising.
MTS: Before developing your own brand, you sang for various bands.  What genres did you perform, and how has that experience influenced your music today?
MRS. X:Oh yes, I sang in a rock band! It was a great time, no doubt! And, you know, I´ll  never forget it! Sometimes I really miss my rock band and think about that great days full of energy, therefore I´ve recorded two rock songs for my upcoming album "Pop á la carte". These songs are  "He Plays Rock N Roll" (which is already released as a single) and "Rock Star" (it will be released first as a single in May 2017).
Jazzmusic, especially Light Jazz, was also my music for a while.   I love to improvise. Jazzmusic  has a taste of freedom.
MTS: You have worked with musicians all over the world, including Sefi Carmel, an award-winning songwriter/producer from London.  How did that collaboration come about, and how has he helped to influence and shape your music?
MRS. X: Working  with Sefi Carmel  is a miracle! I learned so much from watching him weave his magic… Love to watch how my songs get the incredible shape which Sefi  gives  to them… To know finally how the fulfilled dream sounds.
So far, Sefi  has had the honor and privilege to work with some of the world's greatest musical icons such as David Bowie, Michael Bublé, Bruno Mars, and countless others; he was the sound supervisor for one of the recent Eurovision song contests, and he has mixed music for MTV's "Stayin' Alive". In film, Sefi has worked with film producers and directors such as Ridley Scott, John Woo, Kevin Reynolds.
But Sefi´s creativity is not just an experience, he is truly a wizard at telling a story with sound!
MTS: Tell me about your latest musical releases, "80 Miles Away" and "He Plays Rock N Roll".  Give us the details of the "who, what, where, and when" of the release.
MRS. X: Two singles "80 Miles Away" and "He Plays Rock N Roll" are two first releases from my current project "Pop á la carte".
The name of my pop music style, "pop á la carte", became the name of the first album produced by Sefi Carmel. I wrote the music and lyrics and recorded the main vocals to the both singles.
And: it´s really  hapinness to have such a fantastic team to work with! I was fortunate to be supported by fabulous musicians from all over the world by the recording of these two singles: Kirsten Rea (background vocals, USA), M. Dwizzy (rap performer, USA), Jon Hockings (Guitars, UK), Lennon P. Bone (sounddesigner of the alternate version of "80 Miles Away", USA), Radu Marinesku, Felix Brüske and Christopher Langer (sound engineers, Germany).
Both singles were released shortly and are to find on all global download- and streaming plattforms (iTunes, Spotify,  Amazon, Google Plus and others).
MTS: Tell us about "80 Miles Away."  What was the inspiration behind the song?  
MRS. X: This was a very important song for my creative growth! '80 Miles Away' is inspired by real emotions and familiar people and their circumstances. It´s a song about love and doubt.
Another inspiration for this song came from my passion for ancient Greek writings, particularly those of Epicurus. The Epicurean philosophy is based on achieving a happy, tranquil life without fear or pain. The line 'But, if you can't change things, is better to unchain,' is definitely Epicurean. Live and let live. Just a little food for thought.
MTS: You are planning 3 album releases in 2017. That's a very aggressive release schedule.  Why are you releasing so much music in such a short time?
MRS. X: The reason is very simply. I just follow my dreams!
MTS: What can we expect from the remaining album releases?  Will they be similar to or will there be some twists and turns?
MRS. X: The main princip of my music style "pop á la carte" is  to create a pop music as a menu. Everyone should find a song or a story which could touch their emotions.
Although I exclusively composed all of the songs featured, musicians from the US, Canada, Jamaica, Azerbaijan, the UK, Israel, Russia, Italy, and Germany all collaborated to create the albums. So be sure: we´ll keep it exciting! This will be definitely a product of a global collaboration. And we are working on this music with love!
MTS: Where do you see yourself in 5 years?  Will you still be wearing the mask, and do you ever plan on performing without the mask hiding your identity, like Kiss did?
MRS. X: Oh yeah, Kiss. I love them. Fantastic musicians!!! Great look, designed to remember them forever, too. And a great example of a big difference between a stage presence and a real personality.
I see myself in 5 years composing music. I love it. To stay somewhere for a while, like Jan Fleming on Jamaica, as he wrote the James Bond books staying in "Golden Eye"… Yeah, it would be really great. To stay on Goff's Caye, for example, to enjoy the sea and to write my songs…
And, of course, to perform live supported by the fantastic musicians I work with. They give me so much energy! Yes,  it sounds like a great plan, isn´t it?
MTS: Who is your favorite/most influential artist of all time, and if you could record a duet with someone, who would it be and why? 
MRS. X: Could it be more that only one artist? Etta James, Nina Simone, Sting and Freddy Mercury are so huge for me…
And I would sing a jazz duo with Lady Gaga! It would be great to improvise together.
MTS: BONUS QUESTION: What does Mrs. X like to do besides music?  And, if I was to come over for dinner, what would you serve?
MRS. X:Mrs. X reads much, travels and learns actualy how to create the animation.  Visual creativity is an another kind of creativity for me, but it helps me to understand much about music, too.
What I would to serve for dinner? Depends on  whether you are vegetarian or not.
If not, you´ll get the  3-course international menu: Dutch frikandel, Azerbaijani djusbere and Caribbean lobster.
Ok, If you're a vegetarian, you'll get the best Dutch fries, grilled eggplants from Baku and dominican pastel de mango.
Which drinks I would serve, could be spontaneously decided, but, of course, you always need a good  music in the background, so why not to play  Mrs. X!
I think that the plan sounds good: dinner á la carte, accompanied by Pop á la carte!
MTS: Thank you so much for your time, MRS. X!  We'll be right over for that delicious meal and some Pop `a la carte!