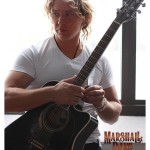 MTS Management Group is happy to announce Marshall Dane will appear on television magazine-style show, "Today's Talk." Marshall is scheduled for Monday, February 24th, 2014 at 1:30pm ET. Marshall will be interviewed on the show, to promote his latest single release, "Alcohol Abuse" and his album, One Of These Days. The show broadcasts live on Rogers Peel TV.
"Today's Talk" is a fast-paced, one hour magazine-style show that gives you the feeling that you are spending time with friends. "Today's Talk" is hosted by lifelong friends Chandra and Shannon, discussing topics such us back to school fashion for children, meal ideas and community events, all in a fun and interactive, casual setting of friends.

"Today's Talk" will be 'the pulse' of the Region, keeping the people connected and 'in the know' with what is happening within their community such as events, public notices, programs and services available.
"Today's Talk" will also host a variety of fun in-studio guests from our local Peel Region. The show will touch on and cover topics such as parenting, exercise, food, fashion trends, local events and tips to keep you updated in the fast moving world of technology.
Marshall Dane is a country music singer/songwriter, based in Port Credit, Ontario. He is a two-time Country Music Association Award Nominee. Fast becoming known as a Canadian Country Heartthrob, Marshall's good looks and easy sense of humor have made him one of the most sought-after new musical guests on TV and radio.