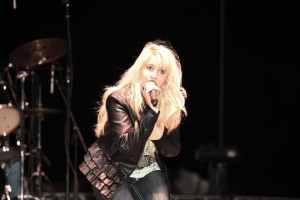 This Friday evening, February 8, 2013, teen country music artist, Josey Milner will be performing at the "Country At The Rock" Showcase. The showcase is being held at the Hard Rock Cafe, Nashville, located at 100 Broadway. Doors open at 6:30pm, with Josey performing an acoustic set at 6:45pm. The lineup also includes Erin Michelle, Caroline Kole, Mantz Brothers and CJ Solar. For more information, call (615) 742-9900.
Josey Milner is a 17-year-old country artist from Kansas City, MO. Her single, "Not Pretty Enough" is being used in a conjunction with an anti-bullying campaign for Angels and Doves, a national non-profit organization. Josey recently returned from a radio promotional tour, in support of her single, including a stop at Renegade Radio Nashville. For more information, visit http://www.joseymilner.com.
"Country At the Rock" Concert Series features country music's stars from Nashville Music City and from across the country showcasing their special talents in Music City USA. This show is produced by AStar Country, Nashville, TN. http://www.AStarCountry.com/.