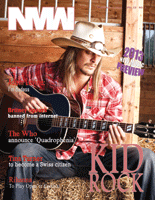 Congratulations to our amazing female country artists, Josey Milner and Amy Rose! The latest singles from both are continuing their climbs up the New Music Weekly chart, with added stations and spins. Here's the scoop:
Josey Milner's debut chart single, "Not Pretty Enough" picked up two new reporting stations, while gaining 73 new spins and climbing 3 places to #54. She is now in the "Chartbound" section of the chart. Josey comes in ahead of the Henningsons' "American Beautiful," #59 (Arista Nashville) and Lady Antebellum's "Downtown," #60 (Capitol.) Could a trip to the Top 50 be in the cards next week?

Amy Rose continues to ride high with "I Just Want You To Know," which climbs another two spots to #17 this week. On the road promoting the single this week, Amy comes in ahead of George Strait (#23, "Give It All We Got") and Blake Shelton (#19, "Sure Be Cool If You Did.") Her single posted another strong spin gain of 75 over last week's total. We're hoping for the Top 15 next week!
Please keep requesting both songs on your favorite country music stations!