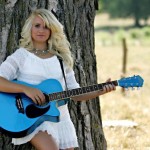 MTS Management Group is happy to announce teen country artist, Josey Milner has been added to the lineup of 50 independent country, bluegrass and southern gospel artists at the Children's Teddy Bear Festival. The festival, being presented by CMG Radio Club, will take place at the Wilson County Fairgrounds in Lebanon, Tennessee on April 27 and 28, 2013. Gates open at 8 am each day, with performances beginning at 9am and ending at 11:30pm. The festival, which promises to be the largest independent country music festival ever, will benefit children's charities. Other artists scheduled to appear include Razzy Bailey, Michael Lynne, T. Jae Christian, and more. Tickets may be purchased in advance at http://www.childrensteddybearfoundation.com/tickets.html.

The mission of The Children's Teddy Bear Foundation is to advance cures, and means of prevention, for pediatric catastrophic diseases through research and treatment by children's hospitals and research centers. It is by the giving of a Teddy Bear to these children and donations to the foundation (who in turn divides these gifts between the Hospitals and Centers), that we can all work together to bring to the children and their families hope and comfort in a time we they most need our support. For more information, visit http://www.childrensteddybearfoundation.com.
Josey Milner's current single, "Not Pretty Enough" is helping to raise awareness and funds for national anti-bullying charity, Angels and Doves. She recently completed the second leg of her midwest radio promotion tour, visiting stations in Tennessee, Missouri, Kansas and Iowa. She performed at the Hard Rock Cafe in Nashville on February 8, 2013. For more information, visit http://www.joseymilner.com.
CMG Radio is an all indie artist network with 254 online stations and 3200 Station Affiliates worldwide. It was founded by Jerry Cramer. Along with the help of many friends and the experiences of fifty years in the music world; along with the ever presence of great music lovers and listeners from around the world, CMG Radio is making its mark along the super information highway, playing nothing but great Indie music 24 hours a day, 7 days a week! For more information, visit http://www.cmgradio.info.