MTS Management Group is happy to announce Xander Demos has been named "Best Guitarist" in the 2014 Iron City Rocks Pittsburgh Music Awards (PMA). This is Xander's second consecutive PMA win for "Best Guitarist."   Winners of the fifth annual awards were announced earlier this week, with the exception of the Hall of Fame Award, which Xander won last year.  Other winners include Stage AE (Best Venue), Drusky Entertainment (Best Promoter) and Chip Dimonick (Best Punk Band.)
Five nominees in each category were voted on by fans from around the world, with the nominee receiving the most votes being named the winner. Winners were announced on the Iron City Rocks website and facebook page.  For a complete list of the 2014 PMA winners, visit http://www.facebook.com/ironcityrocks.
"Thanks to Iron City Rocks and all that voted for me!" said Xander.  "Very honored to get this two years in a row.   It was a tough, tough competition, this year.  Congratulations to all of the nominees…you are all extremely talented, and I'm humbled to win this."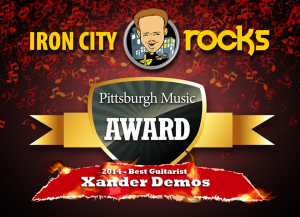 Based in Pittsburgh, PA, Xander Demos has recorded and performed with James Rivera's Sabbath Judas Sabbath, Ged Rylands' Rage of Angels, Liberty 'N' Justice, Modern Superstar, James Rivera's solo band, and others. He has also performed at the past three NAMM Metal Jams, with some of the biggest names in metal. Xander will also appear in the upcoming metal movie, Hair I Go Again. Xander and his band, XDB has performed at Skull Fest, Wolf Fest, and Rock Harvest II, and other notable metal events.  For more information, http://www.xanderdemos.com.
Iron City Rocks is a nationally recognized podcast from the "Iron City" of Pittsburgh, Pennsylvania, that brings you the biggest and best interviews in Metal, Rock and Blues. Recent guests on the show include George Lynch, Dweezil Zappa, Joe Lynn Turner, and Richie Kotzen. For more information, visit http://www.ironcityrocks.com.