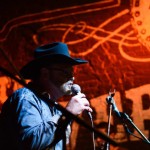 Feb. 21, 2014 – SHREVEPORT, La. — MTS Management Group is happy to announce Doug Briney's performance on KTBS TV in Shreveport, LA. Doug will be a guest on the morning show, broadcasting at 9am local time on February 28, 2014. Doug will perform a song from his critically acclaimed Super Country Cowboy album, and he will talk about his current tour. The tour takes him to The Naked Bean in Shreveport, the following night, March 1, 2014. The Naked Bean is located at 451 Kings Hwy in Shreveport. Admission for the concert is $3.
KTBS 3 celebrated 50 years of broadcasting service to the ArkLaTex on September 5, 2005. They serve 28 counties and parishes in East Texas, Northwest Louisiana, western Oklahoma, and southern Arkansas. For more information, visit http://www.ktbs.com.
Doug Briney is a 2013 Independent Country Music Association Award Winner (Best Live Performance) and 2014 Nashville Universe Award nominee (Best Male Vocalist.) He is signed with Tate Music Group, who released his current album, which charted on the itunes Inspirational chart. Doug is based in Nashville, TN. For more information, visit http://www.dougbriney.com.