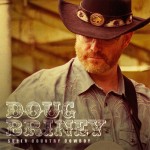 "Super Country Cowboy" and Nashville Universe Award nominee, Doug Briney was recently interviewed by Got Interviews. Here's a brief excerpt:
Got Interviews: You have now relocated to Nashville, TN. What was the determining factor to take the family and move to the big city of Nashville?
Doug Briney: Truthfully, there were several things again at play but the bottom line was I knew in order to really make it in this industry, I couldn't do that from Alaska. We looked at several other places and talked with my manager but we really determined that if we were moving for the music, then Music City was were we needed to be.
Read the entire interview at www.gotinterviews.com.