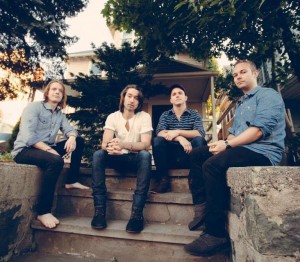 The Wild Waiting – Stay Gold
 URL: http://thewildwaiting.com/
We live in a cluttered world. The Information/Internet Age has inundated our lives with every conceivable entertainment flavor spanning over countless genres and sub-genres. It's impossible to sift through it all and, as a result, it's more incumbent than ever before that new bands quickly find a niche and develop a core audience. While the rules for sustaining success have changed, discovering that niche and building a core audience is harder than ever before. Many get one sustained shot and, if they fail, that's curtains. A few bands are talented enough to strike the right chemistry and emerge full-flower on their debuts. The first release from The Wild Waiting, an EP entitled Stay Gold, fits the latter mode.
They know their niche. The fully realized, intensely melodic six songs comprising the debut utilize an array of musical voices. The first single and song on the EP, "All My Life", glistens with the band's obvious melodic strengths and their unabashed willingness to unveil enormous sheets of sound, fully textured with pointed lead guitar work and dynamic drumming. Lead singer Gav explores a relatively narrow vocal range throughout the release, but excels within that area. Much of the mix centers around his singing and this decision rewards the listeners immensely. Whatever his range may or may not be, Gav belts out these songs with attention grabbing brio and obvious attention to detail. It isn't all pop front man bluster – he proves himself capable of finessing any phrase. "Burn with Me" heralds the gradual emergence of guitar as a driving musical force on the album. There are never any grandiose, quasi-virtuoso indulgences here to weigh down the melody. Instead, the playing punctuates the arrangement with real flashes of lyricism and fire.
 "Say the Right Words" shotguns the band into decidedly pop territory, but this isn't a band who abandons any taste when they take routes that are more commercial. This is a well-constructed pop rocker locked into an uptempo pace never threatening to overwhelm the listener. "2AM Fearless" opens wider possibilities for guitar in the band's music. It brings a raucous, sharper edge to this track about living after midnight. Their potential for wide appeal is emphasized here because they are able to write about youthful experiences in an intelligent, comprehensible way. The album's final song, "Stay Gold", couldn't have been placed anywhere else in the running order. This is grand pop, music with ambition to burn, and The Wild Waiting succeed in creating vast cathedrals of sound. The Wild Waiting's fearless risk-taking pushes them up to the level of that handful of indie bands talented enough to break through at any moment. Their ability to merge symphonic and pop elements together isn't singular, but they do it with rare skill. Their debut EP Stay Gold will impress anyone willing to give it a chance. Melody driven and grandiose pop like this is a scarce commodity in our diminished times, but Boston's The Wild Waiting brings it back in a big way.
INSTAGRAM: https://www.instagram.com/thewildwaiting/
9 out of 10 stars.
Shannon Cowden