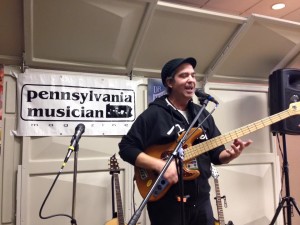 Award-winning Canadian singer/songwriter, Ed Roman invaded the USA with his eclectic blend of musical madness, via the 19th Annual Millennium Music Conference. Ed performed two jaw-dropping solo sets on February 20, 2015: one at the PA Musician Magazine stage, held at the conference headquarters; and one at the Blue Moose Bar and Grille, both located in Harrisburg, PA.  Videos from his performances are available at https://www.youtube.com/watch?v=cnn_RJ0yxqI and https://www.youtube.com/watch?v=LszmRAXZuVQ.
"With the map on the dashboard and fresh coffees in the consul, my musical adventures into Harrisburg PA began and ended with the best of times," Ed writes.  "Passing through wonderful New York State into Pennsylvania, one can not help being swept off their visual feet, when it comes to the landscape and the beauty of these incredible places. Mountain ranges and rivers abound. You can almost feel vibration of music culture and history that has existed in this area for so many years. The Millennium Music Conference and trade show in Harrisburg, PA was a blast and an extremely fun way to get more of my Ed-type musical shoes into the United States. Along with meeting cool people at Pennsylvania Musician Magazine, like "the professor" (Jim Price), the conference itself was filled with wonderful musicians and tradespeople, all working towards a common goal. It was such a pleasure to be a part of this, and I look forward to getting down to Pennsylvania  and playing for the good people of PA whenever I can. I had them dancing like wild gnomes. Amazing Ed heads in PA. Thanks Folks."
Ed offers his thanks in this Youtube video: 

Ed Roman will perform this Friday, February 27, 2015 at the Terra Nova Public House in Honeywood, Ontario, Canada.  He returns to the USA, for the Red Gorilla Music Fest (during SXSW), on Wednesday, March 18, 2015 at Thirsty Nickel, in Austin, TX; and the SS Cape May Festival, on Friday, March 27, 2015, at Aleathea's at the Inn of Cape May, located in Cape May, NJ.
Ed Roman is an Award-winning singer/songwriter, performer and multi-instrumentalist from Shelburne, Ontario, Canada.  Blurring the lines between pop, rock, folk, and country music genres, Ed's uniquely crafted songs have received regular rotation on more than 100 terrestrial radio stations across North America.  Ed is a 2014 Artists Music Guild Heritage Award Nominee and a 2014 Artists In Music Award Nominee.  He is also a 2014 International Music and Entertainment Association Award Winner. His current album, Letters From High Latitudes (an homage to his Ontario home) is a critically-acclaimed vehicle for Ed's socio-political, earthly-conscious and globally-aware messages.  This earthy, funky and magical mix of music has earned Ed Roman airplay chart recognition and won over legions of fans around the world, known as "Ed Heads."  http://www.edroman.net.