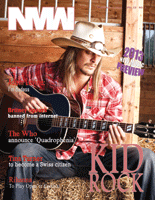 The latest New Music Weekly country chart numbers are out, and it was another great week for our artists, Amy Rose and Josey Milner: Amy's single, "I Just Want You To Know" entered the Top 15, while Josey's track, "Not Pretty Enough" picked up 78 new spins. Here's the story:

Amy Rose makes her NMW Top 15 debut this week, climbing 2 spots from last week. Her single picked up 69 new spins, for a total of 1613, for the week. Amy comes in 2 spots ahead of Band Perry (#17, "Better Dig Two") and 5 back from Blake Shelton (#10, "Sure Be Cool If You Did.") Can the Top 10 be in Amy's future? Keep requesting "I Just Want You To Know" on your favorite country radio stations!
Josey Milner continues to gain steam, picking up those 78 new spins, for a weekly total of 865. Her single remained at #54 this week, just ahead of Eric Church (#55, "Like Jesus Does.") "Not Pretty Enough" also picked up a new reporting station at KALH in New Mexico. Let's help Josey crack the Top 50 next week, by requesting her single!