MTS Management Group and Whiskey And Cigarettes Country Radio Show are pleased to announce the airing of DJ Nik Pizzigoni's interview with Platinum-selling, Billboard Chart-topping country music artist and Grammy Nominee, Sammy Kershaw. Mr. Kershaw is promoting his latest album, Big Hits Volume One. The album contains ten of his biggest career hits in addition to two brand new songs. Newly rerecorded songs on the album include "She Don't Know She's Beautiful," "Cadillac Style," "Queen of My Doublewide Trailer," and "Third Rate Romance," among others.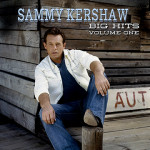 The exclusive interview with Sammy Kershaw will air this coming Sunday, January 19, 2014 between 11am ET-3pm ET. The live show airs on Military Brotherhood Radio at http://www.militarybrotherhoodradio.com and on WDMU Radio at http://www.wdmuinternetradio.com. Whiskey And Cigarettes is also re-broadcast on 42 syndicating stations, worldwide, multiple times throughout the week. The interview will also appear on the February edition of the brand new "Whiskey and Conversations" talk show, broadcasting on iheartradio and other outlets.
Sammy Kershaw is a Grammy-nominated country music artist. He has released ten studio albums, with three RIAA platinum certifications and two gold certifications among them. More than twenty-five singles have entered Top 40 on the Billboard Hot Country Songs charts, including the number one hit "She Don't Know She's Beautiful" and ten more Top Ten hits. www.sammykershaw.com.
Whiskey And Cigarettes Radio Show is a weekly show, originating in Milan, Italy, hosted by the "Romeo of the Rodeo" Nik Pizzigoni. The show features a unique blend of classic, current and indie country, trivia, contests, artist spotlights and interviews and Nik's European charm. www.whiskeyandcigarettesshow.com.