Whiskey and Cigarettes Country Radio Show is happy to announce the airing of their exclusive interview with Featured Artist, Lefroy.  Barry Lefroy joined award-winning host, Nik Bernitz Pizzigoni, to discuss the band's career, including their latest single, "Knockin' On Heaven's Door."
The interview with Lefroy will air this coming Sunday, February 4, 2018, between 11am ET-3pm ET. The live show airs on Military Brotherhood Radio at http://www.militarybrotherhoodradio.com. Whiskey And Cigarettes is also re-broadcast on 26 internet and am/fm syndicate stations, and their affiliates around the world.  The show is also available on demand, on Soundcloud and at www.whiskeyandcigarettesshow.com.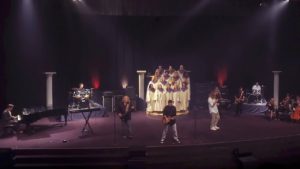 ABOUT LEFROY:  Barry Lefroy is a well respected Canadian bass player, having played with famous bands in the 70's, and a successful business entrepreneur. He is also the mastermind behind the debut song/video/band Lefroy, having first come up with the idea of remaking Bob Dylan's classic, "Knockin' on Heaven's Door" in a way it had never been heard before. Barry had been seeing the extreme unrest in our country, and his goal with the project, overall, was to help bring unity through a video that embraces peace and compassion. He brought these ideas to his son, also named Barry, and his son's close friends, Paul Susanka and Kevan Wallace (audio engineer/drummer). They began working on the project with Barry Sr. acting as executive producer, closely collaborating with Paul (directing) to display the vision for the sound they were about to complement. While making the video, Barry realized the song could bring meaning and hope to those diagnosed with diabetes and is passionate about making a contribution to research and finding the ultimate cure. Inspired by the Trans-Siberian Orchestra, Barry plans to create a big rock show with elaborate set pieces, pyrotechnics, and many of Southern California's best musicians, to create an evening that will blow the minds of all in attendance!  For more information on Lefroy, please visit https://www.lefroyband.com/about-1/.
"Whiskey And Cigarettes Radio Show" is a weekly show, originating in Milan, Italy, hosted by the "Romeo of the Rodeo" Nik Pizzigoni.  Nik is a Nashville Universe Awards Winner, International Music and Entertainment Association Award Winner, a New Music Awards Winner, AMG Heritage Awards nominee,  and an Independent Country Music Association nominee. The show features a unique blend of classic, current and indie country, trivia, contests, artist spotlights and interviews and Nik's European charm. Previous guests have included Charley Pride, Hank Williams, Jr., Charlie Daniels, Steve Wariner, John Rich, Oak Ridge Boys, Lorrie Morgan, Bill Anderson, Luke Bryan, Bryan White, Travis Tritt, Lee Greenwood, Collin Raye and many others.  www.whiskeyandcigarettesshow.com.