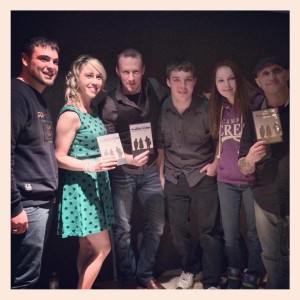 MTS Management Group and Canadian country music trio, Western Avenue are happy to announce the world premiere of the band's new music video for their current single, Wherever You Are." The video will make its debut Tuesday, January 14th at 7pm ET on the Western Avenue Youtube Channel at www.youtube.com/westernavenueband.
The military-themed video was filmed on location in Belleville, Ontario, under the direction of Chris Vandenberg. Additional production members include: Samuel Scott, Producer; Adam Taylor, Director of Photography/Camera Operator; and Josh Roarback, Editor. The video includes performance shots of the band, as well as scripted scenes featuring actors.
This is not the first music video for "Wherever You Are," although it will be the first "official broadcast" version. A slide show video, published to Youtube in July 2013, has more than 168,000 views. http://www.youtube.com/watch?v=xRIU9mB5Hqg
"Wherever You Are" was written by band member, Nikki English (Robertson) and Dave Woods. The single, their first in the US, has topped several indie country charts. It is currently in the New Music Weekly Top 10 and Music Row Top 100. The track is from Western Avenue's self-titled debut release.
Western Avenue is Matt Williams, Keith Robertson, and Nikki English (Robertson.) Based in Peterborough, Ontario, Canada, the trio have been nominated for the Ontario Country Music Association Awards, the International Music and Entertainment Association Awards and the Nashville Universe Awards. For more information, visit www.westernavenue.ca.