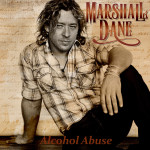 Our latest addition to the MTS Family, country singer Marshall Dane was recently interviewed by Jason Saulnier for his popular website, MusicLegends.ca. Here's an excerpt:
Music Legends: What's new in the world of Marshall Dane?
Marshall Dane: My single:) "Alcohol Abuse" is going to radio in Feb! Our first time going to US as well:) Should be an exciting year!
Music Legends: How was it recording One Of These Days album?
Marshall Dane: It was a great process. It was recorded in London Ontario at a top shelf studio called EMAC. Produced by Dan Brodbeck. It was a lot of fun. Had one of my brothers sit in while I was doing vocals for "Not Today."
Read more at www.musiclegends.ca.
Jason Saulnier is an Independent Radio Show Host and Interviewer for over 15 years on FM radio in Canada & online, "Good Time Metal Oldies" & "Jason Saulnier Interviews Legends" shows. He interviews on average over 100 music industry people & bands each year, with each person interviewed having some notability. His YouTube channel at http://www.youtube.com/gtmo has over one million views in total. 1,124,397 views.