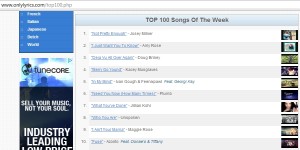 MTS Management Group is proud to announce that their artists, Josey Milner, Amy Rose and Doug Briney have the top 3 songs on the Only Lyrics Top 100 Songs of the Week chart. Josey Milner tops the chart, for the first time, with her single, "Not Pretty Enough." Amy Rose is at number two with "I Just Want You To Know." Doug Briney rounds out the Top 3 with "Deja Vu All Over Again." Rounding out the Top 5 are Kacey Musgraves "Merry Go Round" and Ivan Gough & Feenixpawl "In My Mind." To view the entire Top 100 chart, visit http://www.onlylyrics.com/top100.php.
Josey Milner's "Not Pretty Enough" also tops the Only Lyrics Top Country Songs chart this week, followed by Doug Briney at number two. Amy Rose's "I Just Want You To Know" is a former number one on the Top Country Songs chart, but has since been "retired" from the chart, after a continuous run at the top, which lasted several months.
"We'd like to thank all of Josey's, Amy's and Doug's fans for visiting the Only Lyrics website to play the songs, said Michael Stover of MTS Management Group. We'd also like to thank them and encourage them to continue to request their music on radio stations everywhere. It makes all the difference."
Josey Milner is a teen country artist and anti-bullying spokesperson for Angels And Doves, a national non-profit. Her single, "Not Pretty Enough" was released in December. For more information, please visit http://www.joseymilner.com.
Amy Rose is a Canadian country artist who recorded her first album at the age of 13. Her latest single, "I Just Want You To Know" was recorded in Nashville with After Tuesday Productions. A full-length CD is due this spring. For more information, visit http://www.amyrosemusic.com.
Doug Briney is a 2012 Independent Country Music Association award nominee. His debut CD, "It's All Country" peaked at #6 on the Roots Music Report Traditional Country chart. It will be re-released on CBM Records on January 15, 2013. For more information, visit http://www.dougbriney.com.