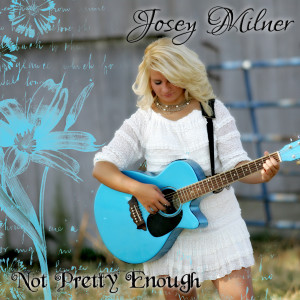 Teen country music artist and anti-bullying advocate, Josey Milner has announced that she will be donating a portion of the sales from her new CD single, "Not Pretty Enough" to Angels and Doves, a national anti-bullying non-profit. Josey will donate $1 from each physical CD single sold to Angels and Doves. The 17-year-old is already a spokesperson and ambassador for the organization.
"Josey is really committed to helping Angels and Doves in their mission of spreading the anti-bullying message," said Josey's manager, Michael Stover of MTS Management Group. "She is already planning to donate a portion of her ticket sales to them, but felt like she could do more. That's when she decided to give some of her CD single sales to them, too. I admire her generosity, and find it so refreshing from someone her age. I think she's an amazing example to teens and people of all ages."
"Not Pretty Enough" is the first single from Josey's forthcoming album release, due in the Spring. It was produced by Micah Burdick and Matthew Russo (Hall and Oates) and engineered by Larry Gann (Elton John, John Rich.) The track was recently the most downloaded on radio digital delivery service, Airplay Access. It was also the second most-added by New Music Weekly reporting stations in December. On Monday, the song will be going for its fifth win as champion on Liberty, New York-based Music Row station, Thunder 102's "Starting To Rumble Face Off."
Angels & Doves, headquartered in Indianapolis, Indiana, is a nationwide anti-bullying program that speaks to students, parents and staff members coast to coast. Their mission includes, to speak at every grade, middle and high school nationwide and to introduce "The Bully Book"© to every child in need, and to educate ALL staff members including but not limited to: teachers, principals, all school administrators, coaches, counselors, school nurses, school bus drivers, police departments, parents and our adult community leaders. The non-profit has gained national exposure on The Ellen Degeneres Show. For more information, visit http://www.AngelsandDoves.com.
Josey Milner is a former rodeo rider and pageant winner, based in Kansas City, MO. She will be kicking off a radio promotional tour, visiting stations in the midwest, beginning January 22nd. Josey is signed with Creative Community Artists for fair and festival bookings. For more information, visit http://www.joseymilner.com.