Josey Milner Named Jack Hunter Show's "March Artist Of The Month"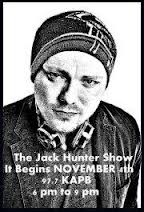 We'd like to congratulate Josey Milner on being named "March Artist Of The Month" by the Jack Hunter Show, broadcast on KAPB 97.7FM in Marksville, LA! Here's what Jack had to say about Josey and her anti-bullying campaign: "Please give our congratulations to Josey Milner: We have chosen her to be the Artist of the month on our website. He stand against bullying really says a lot about her character, and we are sure that her song ("Not Pretty Enough") will touch many lives, who are dealing with this each day…And it is also a growing issue within the school system today. Congratulations to your artist. You truly have something special with you Michael." Thank you, Jack!


Jack Hunter is a 27 year old, Cottonport native, who now has his own radio show on Sunday nights from 6pm to 9pm on 97.7 KAPB. Jack is the youngest DJ at the station and brings a new flavor of music and talent to the Avoyelles Parish country station. He has been working in the radio industry for the past 8 years. "The Jack Hunter Show" features Celebrity Interviews, New Artists Showcases, and above all, PURE COUNTRY! For more information, visit http://thejackhuntershow.co.nr.
---
Leave a Reply