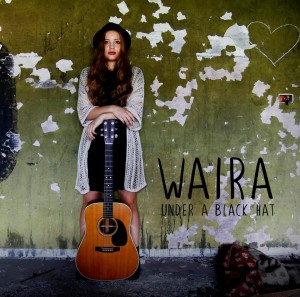 Our friends at AnyLouder.com introduced us to Camilla Cristofoletti, born in 1996, a young indie/folk/pop singer-songwriter known as "Waira". "Waira" refers to the spirit of the wind; she was named so by a man of an Inca tribe, whom she met in July 2015. Her audience really appreciates her unique voice, which has similarities to  Fiona Apple and Norah Jones. The "Under A Black Hat" EP was released november 15th, the day of her 20th birthday. The EP was produced in collaboration with the independent label Vivarecords, arranged by Mattia Mariotti and Marco Facchin. Waira took a few minutes out of her busy schedule to speak with us.
MTS: You are from Italy, and your stage name, "Waira" was given to you by an Incan tribesman. How did an Italian girl named Camilla, come to meet an Incan? Did you ever perform under your "real" name?
WAIRA: I have always loved to work with children and got a job as an animator in a Hotel-miniclub in Elba in the summer of 2015. It was a prodigious Hotel, for really wealthy and, in part, famous people. I immediately noticed that the children's childhoods were vastly different from mine. I felt as if they were overprotected or even acted as adults.
One day I needed some time to reflect upon this and went to the beach and this is when I met Initi.
I've always been quite interested in the NA culture and was able to recognize his culture instantly.
I frequented the beach from then on to visit Inti nearly every day. He shared all stories and entertained my every question on his culture. One day he gave me my name and said "Waira, that's your name, you are like the wind".
I wish I could meet him again to thank him for this amazing gift which has brought me so far already.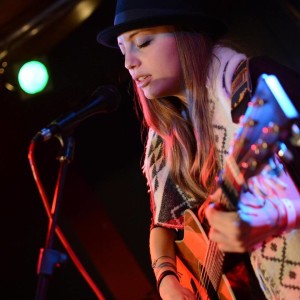 MTS: You began writing songs around age 18. Do you remember the first song you wrote? What was it about? Have you ever recorded and released it?
WAIRA: Unfortunately, I do remember my first song (haha). It's a really horrible love song, it was about a dream being in a park and meeting a handsome guy falling in love with me. What a cliché.
I am pretty sure I'll never record it, I might play it live someday, but just for fun, it's really, really terrible.
MTS: A big break for you was the Music Live Week gig in Turin, in 2015. How did you land that gig?
WAIRA: Actually, it was my very first experience playing alone (for a few months in 2015 I played with two other people, we played live 3 or 4 times). The Music Live Week took place in Turin in December 2015, there were around 50 selected musicians from Italy who came together; it was amazing, we played day and night, I even forgot to eat sometimes, we had to do one gig, mine went really bad, I had to learn how to handle my nervousness afterwards, those 5 days were amazing though!
MTS: Your first single, "Don't Cry" has received much radio airplay. How did it feel the first time
that you heard yourself on the radio?
WAIRA: That was really weird. I remember that it took me 5 minutes to decide whether to press the "publish"-button or not that day. Nearly no one knew that I was a songwriter and I couldn't say if it was a good or a bad song, so I just jumped into darkness… and landed on flowers. Hearing myself talking of playing live in the radio is really weird each time, I avoid listening whenever I can, I'm just not used to it yet and far too self-critic to accept what I answered to a question or how I played a song.
MTS: How did your appearance on Balcony TV help your career? What do you remember most about it?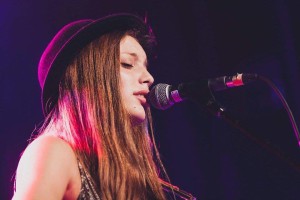 WAIRA: I like Balcony TV a lot, I was on Balcony TV Trento, that's not exactly where I live so it helped me to get known a bit somewhere else. One of my goals in music is to appear on as many 'balconies' as possible, I really think it's a great thing and I hope I will manage to play on some.
MTS: Which do you like best: writing, recording or performing live?
WAIRA: It really depends on the situation, initially performing had a negative impact on me, I always felt really nervous and underestimated myself. Now it's really different, I noticed that people begin to listen when I'm playing for them, and it's the best feeling, there's also a huge difference between a silent audience and a listening audience, when people listen, they give something back, and it's the most amazing feeling I have had so far in music.
Writing can be really fun, satisfying, moving or joyful, but at the same time it can be frustrating, sometimes nothing will sound good, the text won't fit in the melody, inspiration won't come; for me it comes in waves, some waves bring 4-5 songs, followed by a month of 'silence'.
Recording is cool, but it's not really a creative process, it's just putting down what was already written, so it doesn't feel as multi-faceted as writing or performing may be to me.
MTS: Tell us about your London experience, opening for Jay Brannan. How did that come about? What were the highlights of those shows, for you?
WAIRA: London was amazing. While I was sitting in the plane I thought "wow, is this really happening to me?". I played my first gig on February 13th, and 8 months later I found myself playing at the 02 academy, it was surreal.
(I got the chance to play there because I was one of the finalists at UploadSounds, where I was seen by the organizer of the 02 academy events and invited to play in London.) The gig itself was Ok, I was nervous and it was the first time I knew the audience would understand my lyrics, that was nice, but I also knew that London streets are filled with flawless musicians, that thought made me terribly nervous, but in the end it went pretty well.
Jay was super kind to me, he is a really good person and I wish I could meet him again someday.
MTS: Your first EP was recently released. Tell us all about "Under a Black Hat." How did you get the title? What was the recording process like? Who played on the EP? Who produced? Give us the details.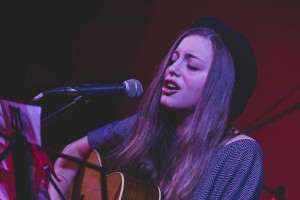 WAIRA: Yes. While I was working on the EP I had three jobs and a lot of stress. In part, it was my fault because I wanted it to come out at my birthday; we were in a hurry recording, taking the pictures and with everything else. Besides that, I had to organize the release party, which was much more stressful, but I had some amazing friends by my side who helped me a lot, I wouldn't have made it without them.
The title-story is kind of funny. At my first gigs, I wore that black hat partly because I felt safe, otherwise because it just fit to what I was wearing. Then I did a gig without the hat and people started asking me why I didn't wear it, they started describing me as "the girl with the black hat" in local media so I just thought to keep it on.
I decided to name my first EP "Under A Black Hat" because it symbolizes my first months as Waira, and I like it when people think the songs on the EP were created 'under the hat', so I thought it was a fitting title.
MTS: You are currently working on a new EP and video. What can we expect from those? When will they be released?
WAIRA: Yes, I got more than 10 songs in production, but I'm writing and writing so there will be more, I think I will put 5 of them on my new EP and then I think I'll start working on an Album, but I'm not sure of that. The EP will be different from the last one, I think the songs on it will not be similar to each other, that kind of makes fun, because no one will have a clue in which direction my first Album will go 😉
I think I'll release it this autumn, maybe earlier! We're almost done filming the "nothing to lose" video, I can't wait to see it myself, I think it's going to be awesome. P.S: I had to kiss a good friend of mine on camera for that video, so it better be a great video :D!
MTS: Besides music, what does Waira like to do? If I was to come over for dinner, what would you serve?
WAIRA: I have been doing gymnastics for 10 years now, that was my really big passion until music broke the scene I am a gymnastics teacher and study music therapy, I have worked as a kindergarten teacher and as a waiter as well, but now I'd like to concentrate on music and keep my job in gymnastics as my only one.
Cooking is not really one of my strengths, unfortunately I'm not the typical Italian girl in that way, but I think I'd make an effort and be a real Italian for you, I'd serve Pizza , or we'd be going to eat Sushi!
MTS: Thank you for taking the time to speak with us, Waira! Good luck on your release and career!  Check out Waira's performance on Balcony TV: