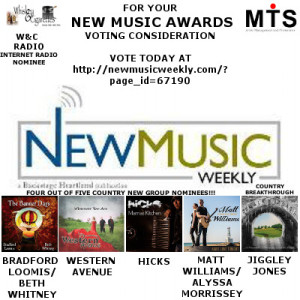 MTS Management Group is proud to announce their clients, Hicks, Jiggley Jones, Matt Williams and Alyssa Morrissey, Western Avenue, Bradford Loomis and Beth Whitney, and Whiskey and Cigarettes (W&C) radio, have been nominated for the 2015 New Music Awards. Hicks, Williams and Morrissey, Western Avenue, and Loomis and Whitney have all been nominated for Best New Country Group.  Jiggley Jones has been nominated for Country Breakthrough Artist of the Year. He was nominated for two New Music Awards in the Adult Contemporary categories, last year.  Whiskey and Cigarettes (W&C) is nominated for Best Internet Radio Station.  Other country music nominees include Kenny Chesney, Tim McGraw, Blake Shelton, Lady Antebellum and Band Perry.
The annual New Music Awards are given for excellence in music to both recording artist and radio stations, by New Music Weekly magazine. First round nominations are submitted by members of the press, radio, music industry and fans, with the top performing nominees being selected for the final ballot. Voting for the winners is underway at http://newmusicweekly.com/?page_id=67190.
"On behalf of all my artists, I would like to thank everyone who nominated them for these prestigious awards," said Michael Stover of MTS. "This has been an incredible year, for all of them, and I hope we can cap it off with some wins! Please consider each of them for your final votes. We are very grateful. Thank you."
Hicks is an award-winning Swedish country singer/songwriter, who hit the NMW Top 10 in 2014 with his debut US single, "Hayride" (MTS Records). His follow-up, "Mama's Kitchen" (MTS) is currently climbing the NMW charts. www.hickscountry.com.
Jiggley Jones is an eastern PA-based singer/songwriter, whose debut album with Lamon Records spawned the 2014 NMW country chart single, "Walk On Me."  Jiggley is a three-time New Music Awards nominee.  www.jiggleyjones.com.
Matt Williams and Alyssa Morrissey are an Ontario, Canada-based duo, who hit the NMW country charts in 2014 with "Make Love Tonight" (MTS.) Matt is also a member of Western Avenue, who are also nominated for a 2015 New Music Award.  www.mattwilliamsproductions.com.
Western Avenue is an Ontario, Canada-based country trio, including Nikki English, Keith Robertson and Matt Williams. They topped the New Music Weekly country charts in 2014 with their debut US single, "Wherever You Are" (MTS.) www.westernavenue.ca.
Bradford Loomis and Beth Whitney hail from the Seattle, Washington area.  Their debut album, The Banner Days (MTS) received massive critical acclaim, garnering them placement on several Best of 2014 lists.  www.thebannerdays.com.
Whiskey And Cigarettes (W&C) radio show is hosted by award-winning radio veteran, DJ Nik Pizzigoni.  Based in Milan, Italy, W&C plays the best mix of today's, yesterday's and tomorrow's country hits.  Known for his unique interviewing style, Nik has featured conversations with some of the biggest country music stars.  www.whiskeyandcigarettesshow.com.
New Music Weekly is a nationally distributed trade magazine for the radio and music industries. Following the tradition of Bill Gavin and the Gavin Report, New Music Weekly interprets data from the Spins Tracking System for music industry executives and artists across the United States. Weekly editorial features include highlights of the top singles impacting radio and "spotlights" of new music from the Top40/Pop, Country, AC/Hot, and College music genres.