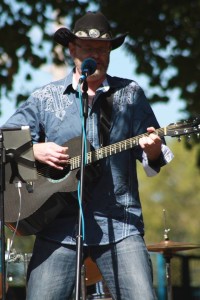 MTS Management Group is happy to announce Doug Briney has been nominated for Male Vocalist of the Year at the first annual New Country Music Association Awards. The inaugural awards and red carpet event will be held on April 18, 2015 at Samary Plantation in Nashville, TN. Tickets for the event are sold out. Voting for nominees is for NCMA Members only at http://www.musicroadentertainment.com/-new-country-music-association-members-only.html. The organization has an open door policy, and new members can join for free.
Other Male Vocalist of the Year nominees include Lee Gibson, Trae Edwards, Scott DeCarlo, Blane Howard, and a host of other new country artists.
Doug learned of his nomination while recording a new song at Sweetsong Studios in Nashville, TN, "Parkinson's:"  "Thank you to the NCMA for this incredible honor…Tremendously blessed. Yesterday, had a great day at church then headed over to
Sweetsong Nashville Studios to record a new song. Dennis Money, is the owner and producer there; he is a genius. Russell Cobb (The Hammer), fun guy and an incredible drummer. Mackenzie Nehring (Baby Face) is an extremely talented guitar player with a great attitude. Sam Hughes (Fingers) is a great bass player–shoot he's a great musician. Josephine Michener (Sweet Thang) is one of the finest fiddler players I've had the privilege of working with. Cody James McKinney (Wildman)– there isn't anything this guy can't play; yesterday he broke out the steel guitar for me.'
'We recorded "Parkinson's," a song I co-wrote with Hollywood Howie Garoutte, and in doing so probably broke every rule on songwriting, yet with these musicians and the magic of Mr Money, (BTW- he not only produced but laid down background vocals and keyboard) I think this song sounds fantastic. I can't wait to get the final mix and master. The song is a first hand account of what it is like to have Parkinson's and the stereotyping that happens because of the shakes and troubles."
No details for a release date are available yet.
Doug Briney is a Nashville-based country artist and pastor. Signed with Tate Music Group, Doug has released two albums, It's All Country and Super Country Cowboy. He is an Award-winning artist who has toured the midwest and appeared at CMA Fest, Hard Rock Cafe Nashville, Silver Dollar Saloon, Iditarod (Alaska), the Alaska State Fair, and more. He is a Musicians On Call and Heart Songs for Veterans artist. His most recent single, "Unknown Soldier" helped raise funds for Operation Troop Aid.  For more information, visit http://www.dougbriney.com.