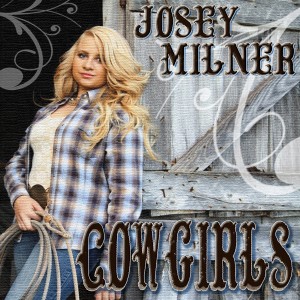 MTS Management Group and Kansas City-based country music recording artist, Josey Milner are happy to announce the start of production on Josey's new music video, "Cowgirls." Josey is inviting her fans to be a part of the initial video shoot, which will take place during Josey's live concert on Friday, January 24, 2014 at VooDoo Kansas City. The venue is located in Harrah's Casino, One Riverboat Drive, Kansas City, MO 64116. Admission to the 21 and over show is $10 at the door. Doors open at 7pm. ROBE will open the show at 7:30, with Josey performing two sets, beginning at 8:45pm. Live performance and crowd scenes will be filmed during the show.
J-Crew Productions, an award-winning collective of filmmakers, designers, actors and writers, from Kansas City, Kansas, will handle the video production. Their short film, "The Hunt" won the People's Choice Award and 1st Place (Short Film) at the 2009 Cavalier Film Festival. Julian Garcia will direct. For more information on J-Crew Productions, http://jcrewproductions.com/.
"We're really excited about Josey's new video," said her manager, Michael Stover of MTS Management Group. "We looked at submissions from many potential directors for this project, and Julian and J-Crew stood out above the crowd. They've got a fun, "Boy Meets Girl, Boy Cheats Girl, Girl Gets Even" story line, and I think Josey's fans are just going to love it! I hope they all come out in droves for the VooDoo show. It's the perfect venue to shoot live footage, and it's going to be an awesome concert! Come on out and celebrate 'Cowgirls' success with Josey!"
Josey Milner is a teen country music artist, who was named as one of the Ten Hottest New Artists of 2013 by an international publication. She has received nominations in the Nashville Universe Awards, the International Music and Entertainment Association Awards, and the Independent Country Music Association Awards. She is also an anti-bullying advocate and reigning Miss Odessa, Missouri. For more information, visit www.joseymilnermusic.com.