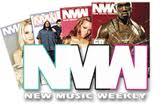 The New Music Weekly chart for week-ending January 16, 2013 is hot off the press, and it's great news for MTS Management Group artists, Amy Rose and Josey Milner! Amy's single, "I Just Want You To Know" climbs another 2 spots to land in the Top 30! Amy's track picked up 92 spins over last weeks total to land at #30, just ahead of major label artists, Carrie Underwood's "Two Black Caddilacs" at #34 and Toby Keith "Hope On the Rocks" at #40. Amy also climbed 1 place on the NMW Indie Country chart, to #24. Way to go, Amy!
Josey Milner's hot new track, "Not Pretty Enough" continues to add new spins, gaining an equally impressive 77 over last week's total. Josey remained at #64 for a second week, but she was just 3 spins behind Uncle Kracker at #63 with "Nobody's Sad On A Saturday Night" and only 23 spins behind Jerrod Niemann's "Only God Could Love You More" at #62. We are looking at a big jump for next week, as Josey hits the road for her "Not Pretty Enough" radio tour. More details to come…Congrats, Josey!
Please keep requesting both songs on your favorite country stations!